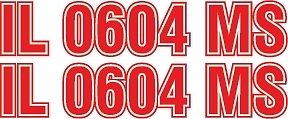 SNOWMOBILE REGISTRATION NUMBERS WITH OUTLINE DECALS
DOES YOUR SNOWMOBILE NEED REGISTRATION NUMBERS?  
 
PLEASE NOTE:  MANY STATES REQUIRE 2" SNOWMOBILE REGISTRATION NUMBERS BE PERMANENTLY ATTACHED ON THE COWLING, OR IF NO SPACE IS PROVIDED, THEY MUST BE PLACED ON EACH SIDE OF THE SNOWMOBILE ON THE UPPER HALF, FORWARD OF THE HANDLEBARS IN A VISIBLE LOCATION.  REGISTRATION NUMBERS SHOULD BE BLOCK STYLE FOR EASY READABILITY AND IN A CONTRASTING COLOR FROM THE SLED.    
 
PURCHASE FROM EXPERIENCED PROFESSIONALS IN THE SIGN INDUSTRY AND EBAY SELLERS FOR 8 YEARS.  Save $$$ by purchasing ready to apply vinyl lettering. Simple installation instructions are included.  This SIGN is for (1) pair of custom vinyl lettered  SNOWMOBILE REGISTRATION NUMBERS WITH SAME COLOR OUTLINE.  (THE AREA BETWEEN THE LETTERS THAT APPEARS WHITE WILL ACTUALLY BE THE COLOR OF THE SLED) Size of lettering will be 2" high x 12"-13" wide (approximate)
 
It's easy to order!
 
Give us the complete Snowmobile Registration Numbers. 
Pick a color from the choices listed below.
Your Snowmobile Registration Numbers will be designed to fit in the 2" x 12 - 13" space.
We will ship your custom ready to apply Snowmobile Registration Numbers to you.
You will receive easy instructions to install your Snowmobile Registration numbers onto your sled.
If you are the winning bidder, please remember to email us with:
 
Your Snowmobile Registration Numbers
The color of your choice
 
CHOOSE A COLOR
 
Black, Red, Orange,
Yellow, Blue, Green,
Plum, Teal, Silver,
Gold and White
 
We use a high quality vinyl material to die cut our letters.  The vinyl has a 6-8 year outdoor durability.  The colors are vibrant all the way through.  Your Custom Numbers will last for many years.