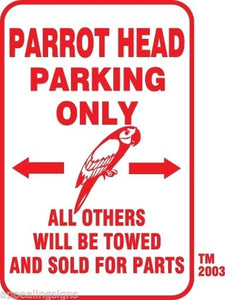 Buffett Parrothead Parking Only Sign 12" x 18" Aluminum Bar Beer Beach Pool #1
Custom Buffett Parrothead Bar Beer Beach Pool Key West Tropical Gift Sign #1
This is a custom 12" wide x 18" high sturdy interior/exterior white aluminum sign. The sign has 1 hole at top center and 1 hole at bottom center for easy mounting to walls or posts. Interior/Exterior vinyl lettering and graphics will last for years. Great for behind your bar, pub, rec room, family room, den, garage, Man Cave, etc.
GREAT GIFT, OR BUY FOR YOURSELF!